This content is not available or only partially available in English.
Directory
Please log in to get access to full employee list or edit your profile.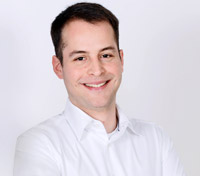 Prof. Dr. Dominik Austermann
School of Business
Professor


Hochschule Mainz
Prof. Dr. Dominik Austermann
Room C2.02
Lucy-Hillebrand-Straße 2
55128 Mainz
Vita
seit 2019
Professor of Strategic & International Management
2016 - 2019
Gründer und Geschäftsführer der VM-Optimal GmbH
2014 - 2019
Gründer und Geschäftsführer der Versorgungsstelle Pflegehilfsmittel GmbH
2009 - 2014
Unternehmensberater bei McKinsey & Company
2007 - 2009
Wissenschaftlicher Mitarbeiter an der RWTH Aachen
2003 - 2007
Diplomstudium BWL an der Universität Mannheim
Publications
2020
Wege zur digitalen Hochschule; Austermann, Wolff; Handelsblatt.
2020
McKinseys, BCGs und Bains agiles Beratungsangebot; Austermann; agile review, Sonderausgabe 2020.
2020
Agiles Management; Austermann, Austermann; Litello Verlag Bonn.
2012
Cultural differences in leadership in SMEs: new product development in China and Germany; Brettel, Land, Thalmann, Austermann; European J. of International Management (VHB-JQ3-Rating: B-Journal), 2012, Vol. 6, Nr. 5, S. 651-675.
2010
Antecedents of New Product Development: A comparison between Germany and China; Brettel, Austermann, Engelen; AMA Winter Educators' Conference Proceedings, 2010, Nr. 21, S. 373-374.
2009
Forward Channel Integration and Performance: An Application of Transaction Cost Economics and the Misalignment Concept; Brettel, Engelen, Land, Austermann; 2009 AMA Educators' Proceedings, 2009, Nr. 21, S. 275.
2009
Einflussfaktoren der Produktentwicklung: ein interkultureller Vergleich zwischen Deutschland und China; Austermann, RWTH Aachen.
Researches
2020
SUVENDO (suvendo.com)
Back to list