This content is not available or only partially available in English.
Welcome! Bienvenue! Bienvenida! Hoşgeldiniz! Karibu! Benarrivata! добро́ пожа́ловать! 欢迎! أهلا بك
Welcome to the Language Center of Mainz University of Applied Sciences!
The Language Center plays a central role in the internationalization efforts of Mainz University of Applied Sciences. It is open to all students and staff of Mainz University of Applied Sciences and supports you in acquiring linguistic and intercultural skills.

The Language Center of Mainz University of Applied Sciences offers a wide range of language lectures every semester - from English to Arabic for business. In addition, students enrolled here and external students can take language exams in various languages and attend summer schools in the UK, USA, France and Spain.

See for yourself what our university has to offer in terms of languages.
Language classes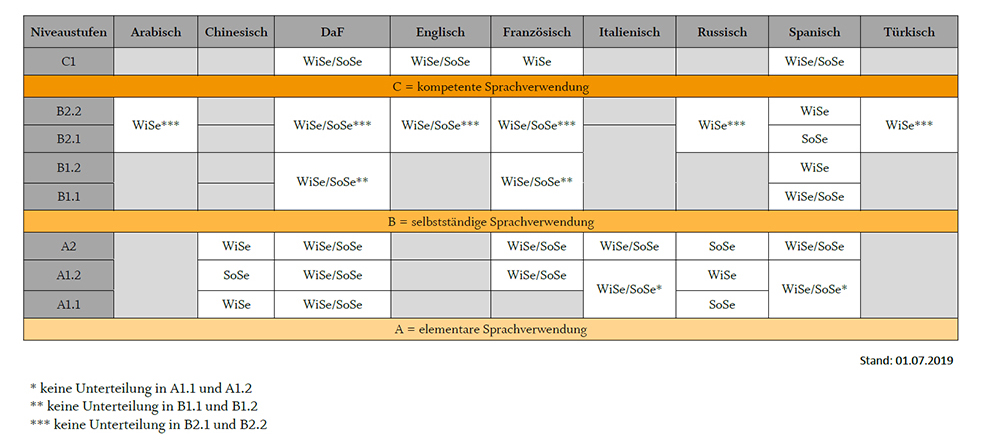 Who can participate?
All full-time and part-time students of the bachelor's and master's programs at Mainz University of Applied Sciences can participate. Some of the language lectures are integrated into the curricula of individual degree programs in the mandatory and elective courses. You can find out in your study structure whether or not language lectures are integrated in your degree program.
Irrespective of this, all language lectures can be attended voluntarily to acquire an additional qualification. However, language exams can also be taken which are required, for example, for a stay abroad at a partner university or an internship.
Students of Johannes Gutenberg University and Mainz Catholic University of Applied Sciences may also attend the language lectures. For more information, please see Cooperations. Employees, lecturers and assistants of Mainz University of AppliedSciences are also welcome!
How can I participate?
The registration of language courses in the School of Business is done via HIP. In the Schools of Engineering and Design, language lectures are given by the respective instructors.

The languages offered will be presented during the orientation weeks in the respective schools. Please refer to the information provided by the Language Center or contact sprachen@hs-mainz.de if you have any questions.

Please also note the semesters in which the respective languages are offered. These can be found in the table "Language Lectures".

Further information can be found here on the website under the respective languages.
We offer these language tests:
Summer Programs of Mainz University of Applied Sciences