This content is only partially available in English.
Welcome to the Equality Office!
We are committed to the equal opportunity concerns of all members of the university. We see gender equality work as a comprehensive topic that is reflected in all areas of the university.
You can see where the gender equality representatives are located in the university structure in the graphic below.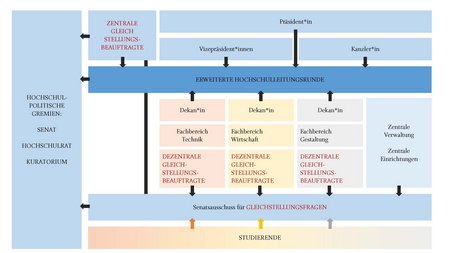 The Equal Opportunity Officers are the points of contact for students and employees on a wide variety of issues - for example, reconciling family and studies/work, career advancement, discrimination or disadvantages.
A special focus of ours is on the topics of family-friendly university and women in science. In these areas, we work with various assistance measures and information and advisory services.
Working groups
We appreciate your interest in these topics and kindly invite you to volunteer in the working groups! Please contact Prof. Dr. Katharina Dahm as the Central Equal Opportunity Officer if you have any questions.
If you have any questions, criticism, or other comments, please write to us at gleichstellung (at) hs-mainz.de