This content is not available or only partially available in English.
B.A. in Interior Architecture
In the full-time Interior Architecture degree program you will learn scientific, artistic and constructive methods. You acquire conceptual, technical and creative skills in the field of tension between object and space. In each semester, you work on a cross-module project. Design developments, material and media technologies as well as architectural theory positions are constantly updated and integrated into the degree program.
The bachelor's degree program enables you to develop your own attitude in a complex professional field in a responsible and well-founded manner. With your acquired knowledge, you can work at the interface to architecture or take on tasks in the areas of communication design, media design and design.
The seven-semester program provides you with broad and solid basic knowledge of the artistic and constructive design of space, and concludes after your final thesis with the academic degree of Bachelor of Arts, qualifying you for a professional career.
In addition, assuming your suitability, you can follow this degree with an in-depth three-semester master's degree program "Spatial Communication". This allows you to become a member of an architectural association and allows you to use the professional title of interior designer.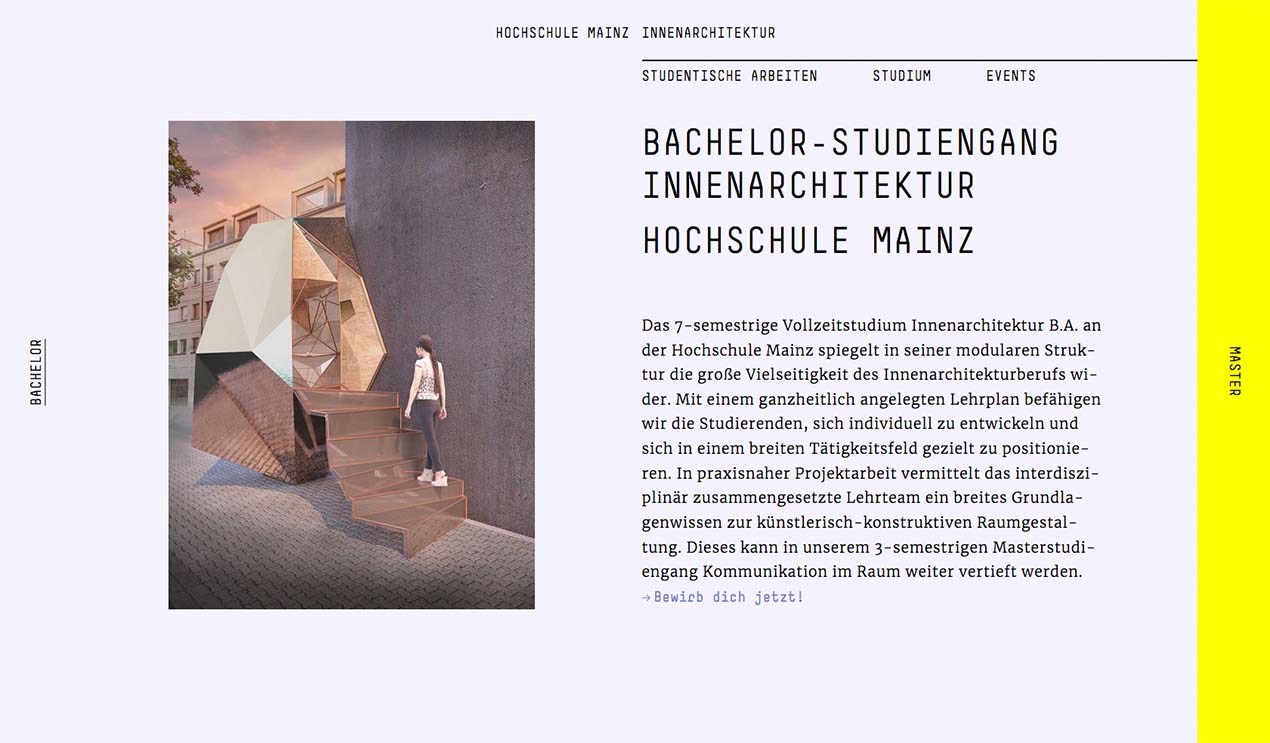 Structure of the degree program
Class schedules and dates (only available in German)
Exhibitions
Exhibition dates, systems and request (only available in German)
Your professional prospects
The Bachelor of Arts degree enables you to work in various disciplines of architecture and interior design.

In order to be able to work independently and freelance, you must be a member of a Chamber of Architects. This, in turn, is also the prerequisite for holding the professional title of interior designer and possessing authorization to present building documents. Admission to the chamber is only possible in conjunction with a subsequent master's degree.


You can work in these professions and industries, for example:
Architecture, architectural photography, exhibition architecture, building renovation, construction management, stage design, corporate design, heritage conservation, event architecture, facility management, color consulting, film architecture, building management, interior architecture, journalism, lighting planning, material development, media architecture, mobile architecture, model building, furniture design, trade fair stand construction, product design, retail design, urban furniture, scenography, transportation design and visualization.
Studying and Family
Mainz University of Applied Sciences guarantees all students childcare facilities for children starting at the age of six months. For further information on the network of daycare providers or the on-campus nursery school (Kita Campulino) please contact the University's Equal Opportunities Representative. Mainz University of Applied Sciences has been awarded the basic certificate "Family-friendly university".
Mainz as a location
The city of Mainz am Rhein is strongly influenced by the students of Mainz University of Applied Sciences and Johannes Gutenberg University. Original restaurants, small owner-managed shops, trendy pubs, theaters and museums enliven the city center and enrich the everyday life of students. At the same time, numerous companies in the media industry - including ZDF, SWR, publishers and agencies in Mainz and the Rhine-Main region - will enable you to complete various internships and later on to easily start your career.
Semester abroad
A semester abroad can be spent at these partner universities:
Swinburne University of Technology (Melbourne, AU)
Victoria University of Wellington (Wellington, NZ)
Akademia Sztuk Pieknych (Gdansk, PL)
École Boulle (Paris, FR)
ISIA Roma (Rome, IT)
New Design University (St. Pölten, AT)
German Jordanian University (Amman, JO)
Universidad de Monterrey (Monterrey, MX)
ESAD Porto (Porto, PT)
Vancouver Island University (Vancouver, CA)
Universidad del Desarrollo (Santiago, CL)